Details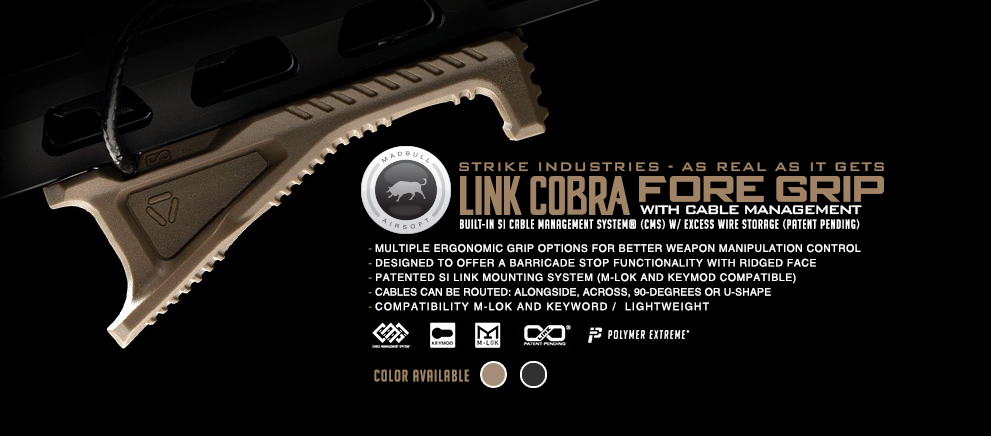 Package Contents:
-x1 Link Cobra Fore Grip with Cable Management
-x2 Screw
-x2 Nut
-x1 Torx key [T20]
-x1 Loctite® Threadlocker Blue 243®
-x1 Warning card
Product Features:
-Patented SI LINK mounting system (M-LOK and KeyMod compatible)
-Built-in SI Cable Management System® (CMS) w/ excess wire storage (patent pending)
-Cables can be routed: alongside, across, 90-degrees or U-shape
-Multiple ergonomic grip options for better weapon manipulation control
-Designed to offer a barricade stop functionality with ridged face
-Lightweight
-High-strength impact resistant custom blended SI Polymer Extreme material
COMPATIBILITY: M-LOK and KeyMod
NOTE: LINK screws and nuts provided are not manufacturer by Strike Industries. Please make routine checks that the screws and nuts are secure as part of the preventive maintenance of the firearm.
Torque: Do not exceed 20 in/lbs (2.26 nM) for the LINK screws
DISCLAIMER: Always check with your state and local laws. We are not lawyers.
-CALIFORNIA PROPOSITION 65 WARNING:-
WARNING: This product contains chemicals known to the State of California to cause cancer and birth defects or other reproductive harm. For more information: www.P65Warnings.ca.gov